IDMP Cost has been evaluated across 14 EFPIA member companies.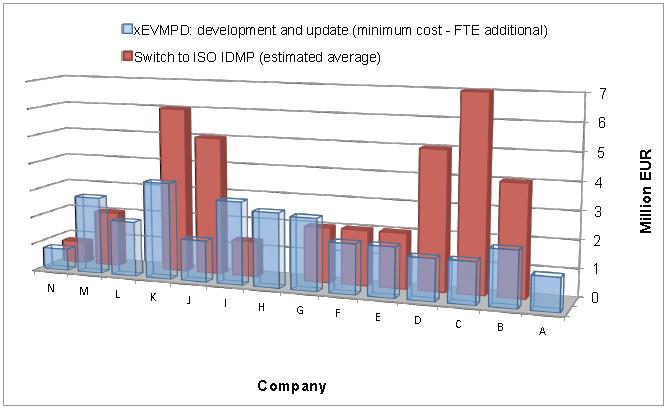 The data required for XEVMPD was predominantly already held by regulatory affairs, although for the majority of companies, some additional data had to be collected from within regulatory affairs. In addition, a typically limited amount of information came from pharmacovigilance and drug safety.
Collation and provision of IDMP data will have significant ramifications for industry but also potential opportunities for the ways companies manage and share data. Overall, IDMP is not data that sits solely in regulatory affairs, and significant parts of it are—or should be—corporate data. Essentially there is the potential that IDMP can drive or support master data management initiatives in industry as well as at the European Medicines Agency. The need to address provision of additional information can be a driver for rationalising the ways companies manage their own data whereby they establish a single authoritative source that is aligned with the ISO standards rather than create yet another instance of data that might have to be manipulated and then maintained independently.
Challenges for most companies in terms of data will be:
Locating an appropriate source of the relevant data
Ensuring that the data aligns with the granularity, vocabularies, and data types of IDMP
Establishing a mechanism to maintain the data
Ensuring consistency of the data to be submitted with that which may be identified during pharmacovigilance
The chart below illustrates that the combined actual cost of XEVMPD across 14 companies exceeded €28M; cost of the ISO IDMP switch is conservatively forecasted to exceed €38M across these same companies. Therefore, a sampling of 14 European Federation of Pharmaceutical Industries and Associations (EFPIA) member companies indicates a combined expenditure of at least ~ €70M for implementing XEVMPD and IDMP.
The chart is drawn out of the Position Paper from the EFPIA:
"Principles for the Implementation of ISO IDMP Standards for EudraVigilance and Development of a Road Map – Final, 6th Oct. 2014"
Related entries