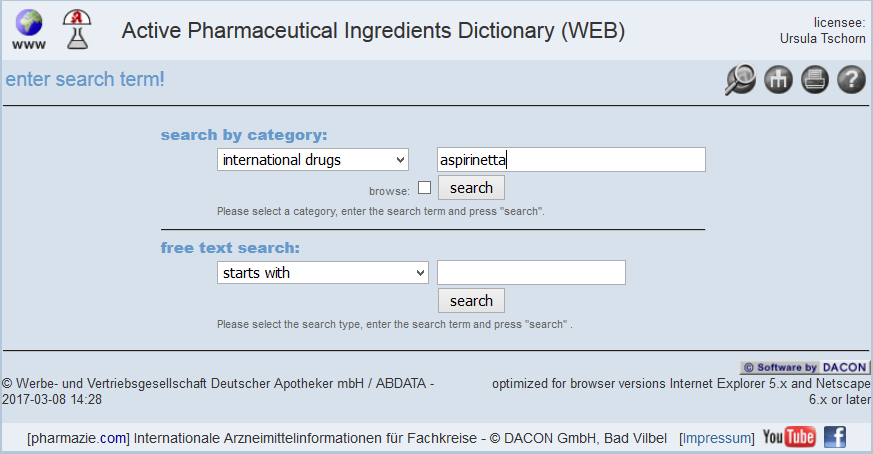 ACTIVE PHARMACEUTICAL INGREDIENTS
An active pharmaceutical ingredient (AI) is the ingredient in a pharmaceutical drug that is biologically active
The term active constituent is often chosen when referring to the active substance in a plant
The term active substance may be used for natural products
The inactive ingredients are usually called excipients in pharmaceutical contexts
THE ACTIVE PHARMACEUTICAL INGREDIENTS IN MEDICINAL PRODUCTS
The Active Pharmaceutical Ingredient (AI) is the part of any drug that is active
Some medicinal products consist of combination therapies, have multiple active pharmaceutical ingredients to treat different diseases
All drugs are made up of two core components: the active pharmaceutical ingredient, which is the central ingredient, and the excipient, the substance inside the drug that helps deliver the medication to the patient.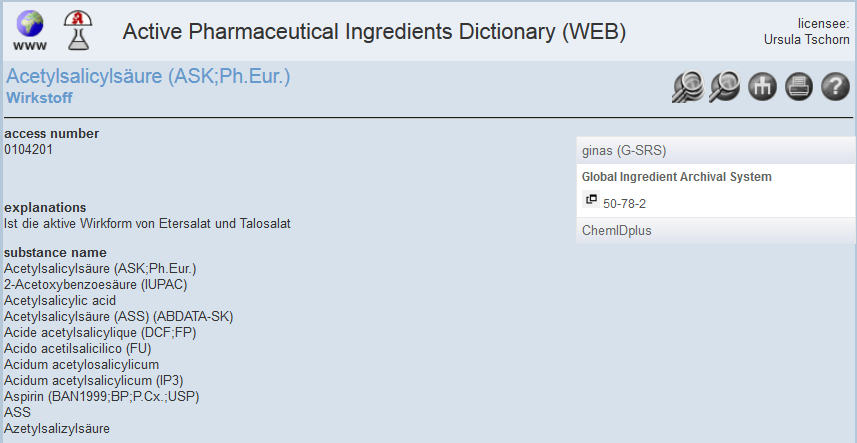 THE ACTIVE PHARMACEUTICAL INGREDIENTS DICTIONARY IN A NUTSHELL
Data for the identification of substances
Name, synonyms, CAS-number and molecular formula.
Chemical/physical properties
Molecular weight, alkalinity, index of refraction, dissolubility, boiling point, freezing point, specific rotation.
Links to further derivatives
Salts and preparations.
Overview of search results
in all [
pharmazie.com
] databases with this special active pharmaceutical ingredient (35+ drug dictionaries).
International
Check out the active pharmaceutical ingredients of 120.000 international marketed medicinal products in 52 countries.
Pharmacological and toxicological information
ATC Codes, Clinical Particulars such as Interactions, Adverse Reactions, Contra-Indications etc.
Regularly updated
The Active Pharmaceutical Ingredients Dictionary is updated twice a month by pharmazie.com.
MANUFACTURING OF THE ACTIVE PHARMACEUTICAL INGREDIENT
The manufacturing of the active pharmaceutical ingredient can take place in- or outside the marketing authorisation holder´s home
Quality must be verified by Good Manufacturing Practice (GMP) status and inspection. Even in the case of outsourcing, AIs are subject to stringent regulations and oversight from the country they are shipped to.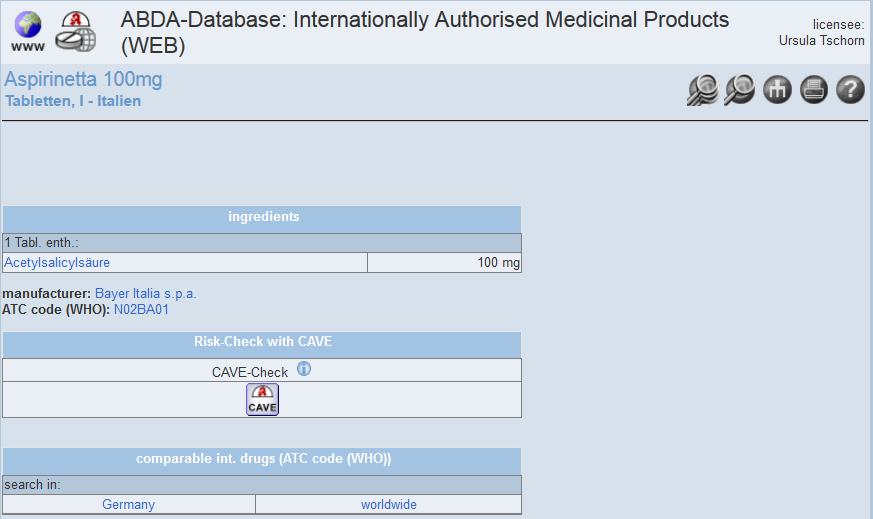 "For me as CRO the Active Pharmaceutical Ingredients Dictionary is the best way to find Excipients, active pharmaceutical ingredients of the different drugs used in clinical trials."
Christine Klipping
President Dinox