SMS is short for Substance Management Services (SMS)
https://idmp1.com/wp-content/uploads/2016/03/logo_idmp1_01.jpg
0
0
Ursula Tschorn
https://idmp1.com/wp-content/uploads/2016/03/logo_idmp1_01.jpg
Ursula Tschorn
2016-09-15 19:00:14
2016-09-15 19:10:45
SMS
SPOR
(as of 23.03.2018, Ursula Tschorn, IDMP SPOR Industry Change Liaison)

SPOR is short for Substances Products Organisations and Referentials in the IDMP projects of the EMA. SPOR data services will act as the vehicle for implementation of ISO IDMP standards in the regulatory and the e-health world.
SPOR data services
SPOR is aimed at delivering quality data services on Substances, Products, Organisations and Referentials to power EU regulatory activities.
Four projects have been established
Four projects have been established at the EMA to implement services that centralise management of each of the domains of master data. The four projects are collectively known as SPOR data services and the single once are abbreviated with SMS, PMS, OMS and RMS.
Implementation of the four projects
The implementation of the four projects will be phased.
All proposals relating to implementation of the projects on Substances, Products, Organisation and Referentials have been and will continue to be consulted on widely with regulators and industry representatives.
IDMP with its referentials applies to both domains, Human and Veterinary
In parallel, EMA is implementing the messaging standards developed by Health Level Seven (HL7), which define a format for the electronic exchange of data that is compliant with the ISO IDMP technical specifications.
Use of SPOR in regulatory activities
Adoption of IDMP operating models will facilitate the implementation of consistent, centrally-maintained, ISO IDMP-compliant data, which will feed regulatory activity across the product lifecycle.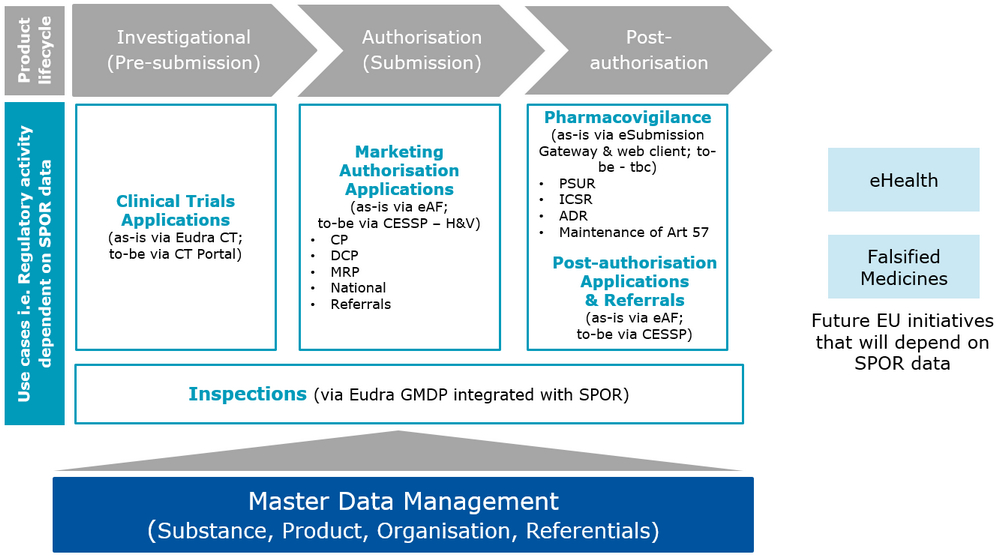 Benefits
Standardised data alone is not sufficient to achieve benefits. The benefits will be realised incrementally:
As all phases of SPOR are completed; and
Provided other opportunities for integration are implemented via EU Telematics Programmes such as CESSP, Clinical Trials EU Portal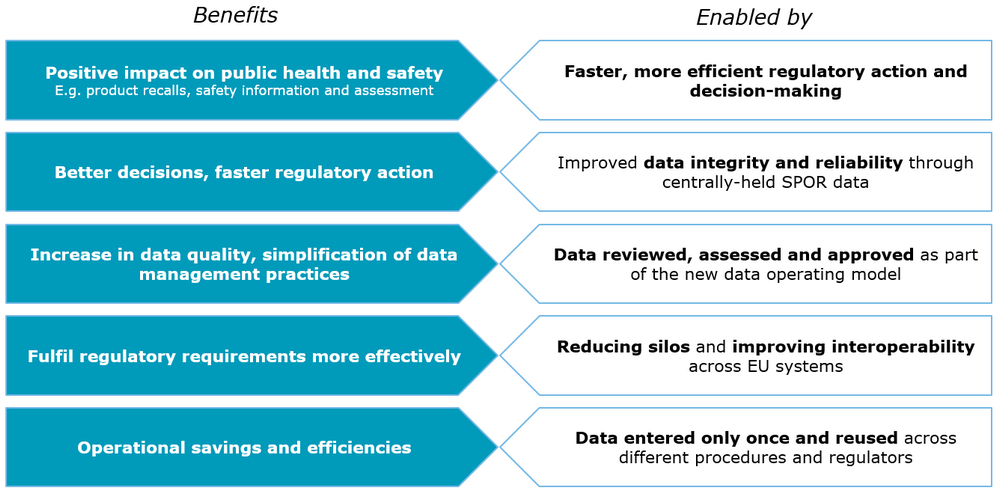 New ways of accessing SPOR data
There are 4 ways of accessing the SPOR data:
web interface
APIs* (Application Programming Interface)
Draft API specifications have been shared with SPOR Task Force; final API specifications are expected to be published in August
For RMS, backward compatibility will be maintained with EUTCT for NCAs who use EUTCT
*An API is a mechanism to allow your IT systems to exchange information automatically with RMS and OMS
Download SPOR API Documentation
(Udated 9.1.2018)
A new edition (version 1.14 published 09.01.2018) of the SPOR API documentation (API schemas, OMS & RMS message formats and HL7) is accessible for interested parties for a free download in this website:
The latest version of the API specification incorporates the following additional information:
A description of how an implementing system must retain rowid elements in the creation, and later management, of change requests in RMS.
A description on the fields that have to be conditionally provided when dealing with both OMS and RMS change requests depending on the status and the data of such requests.
An explanation on how OMS retains compatibility for searching elements based on identifiers, even after they have been merged, and how the current identifier, of an element, is highlighted in the response data.
A description on what kind of change requests can be filed in OMS depending on the status of the referred organisation and/or location.
The API specification covers both RMS and OMS. This has been taken through consultation during April to July 2016 and the feedback has been incorporated in the specification (consultation is now closed).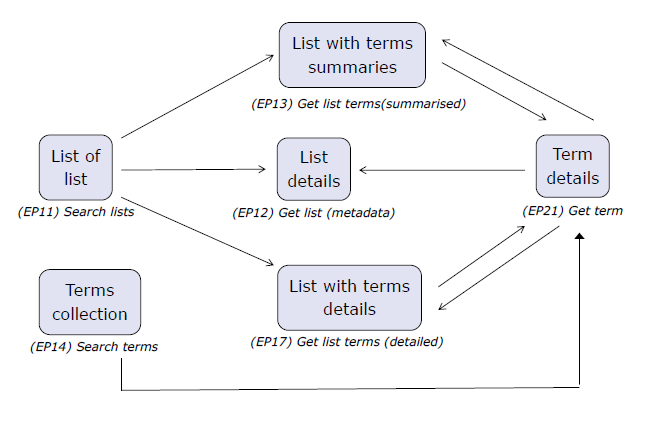 Please note that in the SPOR API specification, the services are set out in Section 6 and those that are OMS-specific are marked "O", RMS-specific are marked "R", and services shared by both RMS and OMS are marked as "RO".
The documents have been shared with the SPOR Task Force and UAT testers.
EMA Data Stewards
EMA will take over the function of a data steward to maintain and coordinate the SPOR data.
A specialised team of EMA staff that will manage data on behalf of stakeholders and provide user support
Validate access requests to SPOR services
Directly involved in maintaining the quality of the data:
Profiling the data (assessing quality of data)
Various data anomalies (different formats of the data e.g. telephone number) can be identified / monitored and data correction can be initiated
Reports generated using this cleansed data will be more reliable
Take action on change requests for new/amended Referential Lists/Terms and Organisation data
Data content
RMS lists at go-live:
Lists from EUTCT (apart from Substance list)
Lists to support OMS
Lists for ISO 11239 (Pharmaceutical dose forms, units of presentation, routes of administration and packaging) and ISO 11240 (Units of measurement)
Some lists to support PMS project (e.g. Material)
Content of the OMS dictionary at go live:
MAHs: (H+V) CAPs & (H) NAPs
MAAs: (H+V) CAPs
MRL applicants (Vet)
MA & MRL contacts: (H+V) CAPs
Referentials Management Services RMS Operating Model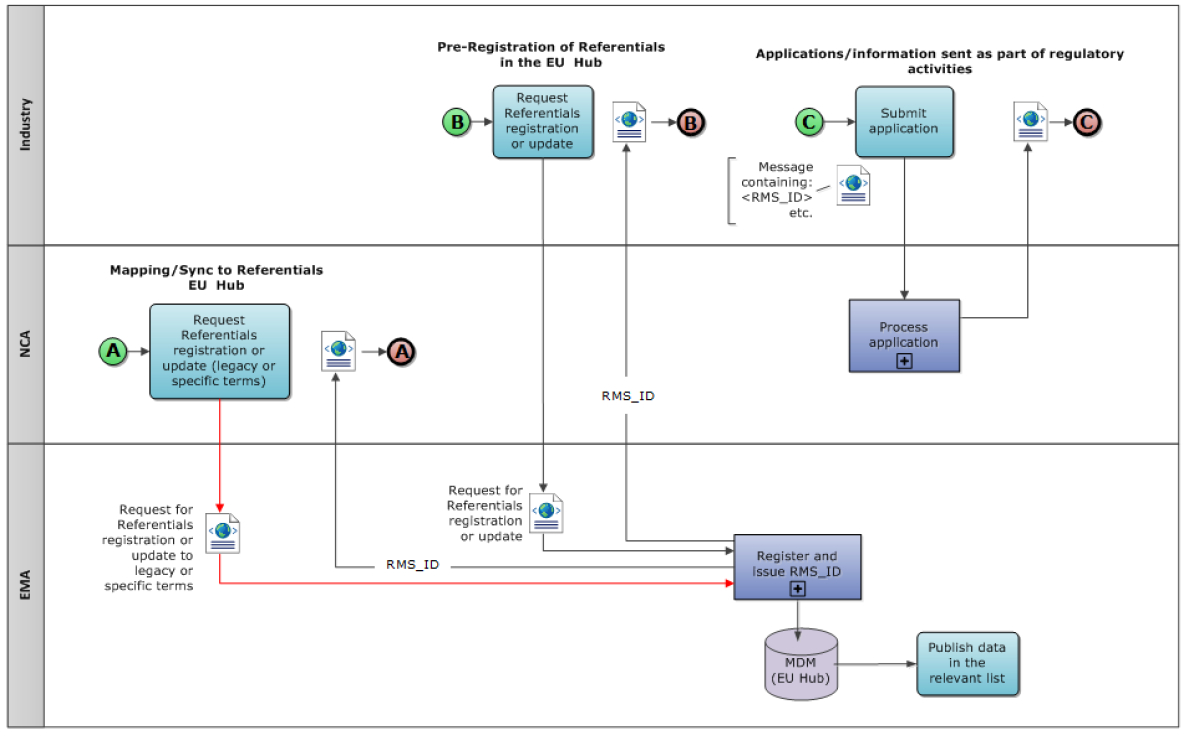 Organisations Management Services OMS Operating Model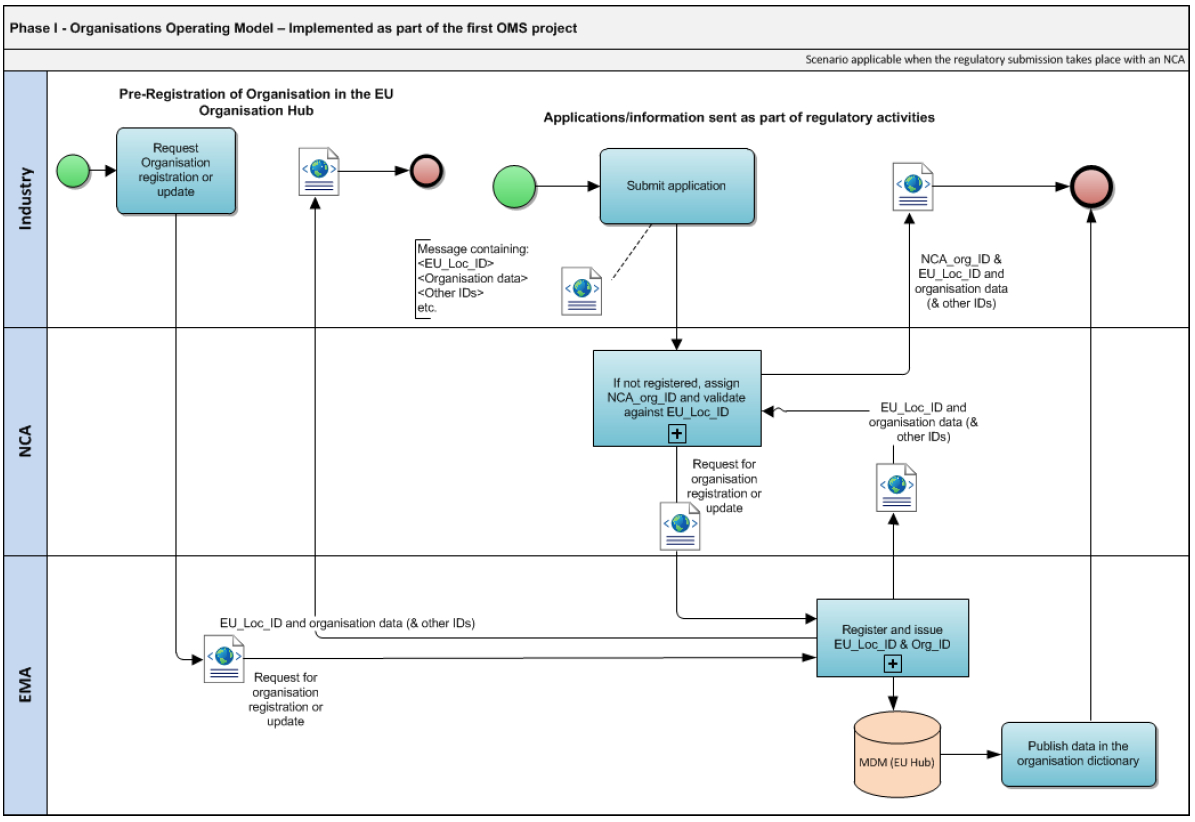 Key Industry engagement activities
Industry is now asked to start with mapping activities from their local data to IDMP SPOR referentials
Industry Change Liaisons will provide a continuous channel for information and training throughout the year
In addition, a number of specific events are planned that will be open to all Industry stakeholders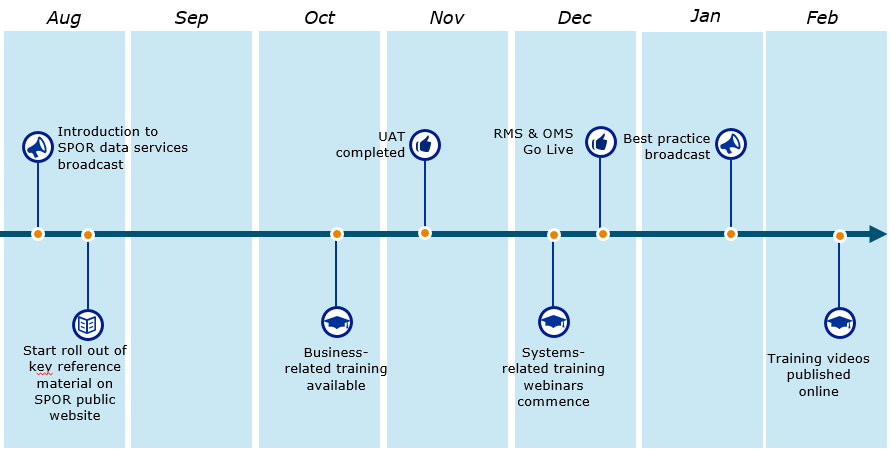 In summary
SPOR data services will act as the vehicle for implementation of ISO IDMP standards
SPOR data services will enable the realisation of benefits at all stages of the product lifecycle due to future integration of regulatory processes with SPOR's standardised data and central data management services
Implementation of RMS and OMS is the first step in a phased approach to roll-out of SPOR and of other Programmes dependent on SPOR data
In order to be ready for the future changes brought about by IDMP and by integration with other Programmes, Industry should prepare now to ensure they have the foundations in place through alignment with RMS and OMS
Webinar Implementing ISO IDMP: introduction to SPOR data services
Link to EMA´s Information on Substances, Products, Organisations and Referentials
https://www.idmp1.com/wp-content/uploads/2015/03/wiki_fotolia_68871205_m.jpg
1378
1378
Ursula Tschorn
https://idmp1.com/wp-content/uploads/2016/03/logo_idmp1_01.jpg
Ursula Tschorn
2018-03-23 18:05:13
2018-03-23 14:14:17
SPOR
RMS & OMS Mapping – Impact to Industry
Concerning SPOR Data Mapping Activities the Industry is invited to start now with mapping activities. At the same time be aware, that the RMS and OMS lists are still worked on.
The preparing activities are:
SPOR Programme participation & Engagement via SPOR Change Liaisons (IDMP1)
Analyse / adapt process to keep data synchronised
RMS mapping
OMS mapping
Synchronise local data with SPOR
Request new/updated data prior to regulatory submission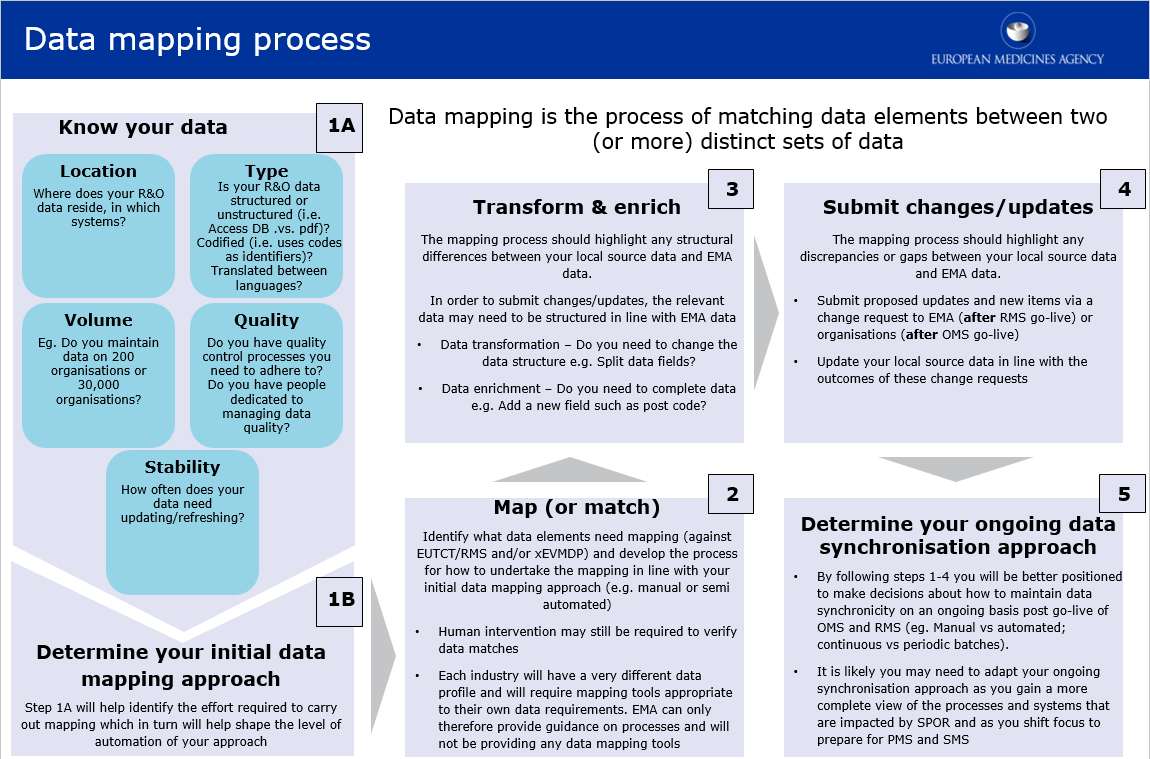 How to get access to RMS data
Before RMS go-live
Industry in SPOR Data Mapping Activities does not have access to EUTCT so CSV lists are made available here in the IDMP1 Website.
After RMS go-live
Stakeholders can log on to RMS, browse and download a CSV or XML file
What data to use from RMS for mapping
Identifier
Language (En & other languages)
Term Name
Short Name
Description
Status
Provisional – When a Term is created after validation by the EMA Data Steward but prior to approval by the List Owner. The full detail of this Term is visible to all users.
Current – When a Term is approved by the List Owner for use in new applications/records.
Nullified – When a Term has been published in error and needs to be removed.
Non-Current – When a Term is not approved by the List Owner for use in new applications/records and/or refers to legacy data. See also Current Term which contains the indication of the current term(s) that should be used instead.
Domain
Human (H), Veterinary (V), H&V (Human & Veterinary)
Mapping/Matching Referentials data
Matching the following data elements between the RMS list and your data set (manually or using IDMP1 match tool)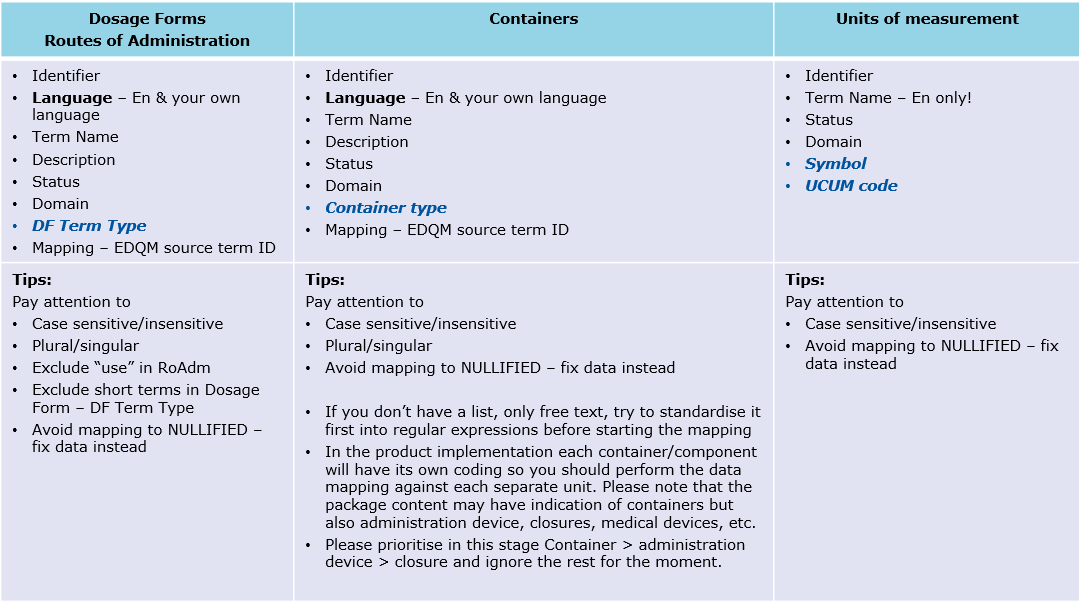 Transform/Enrich
Complete the data in your systems with RMS to facilitate automatic updates/sync.
The mapping exercise enables identification of new/updated terms and preparation for data synchronisation.
You only need the Term ID (and version?)
BUT consider including all/some of the above elements in your database in order to automate the comparisons/synchronisation
There is no requirement to cover translations at this stage.
When to request a change
New Local Term – Term exists in your List but not in RMS
Updated RMS Term – Term exists in RMS and your List, but with some differences
Where to request a change
RMS – please submit your change request (on the English version and main data attributes only) to RMS when it goes live
Synchronisation approach
Decide your synchronisation approach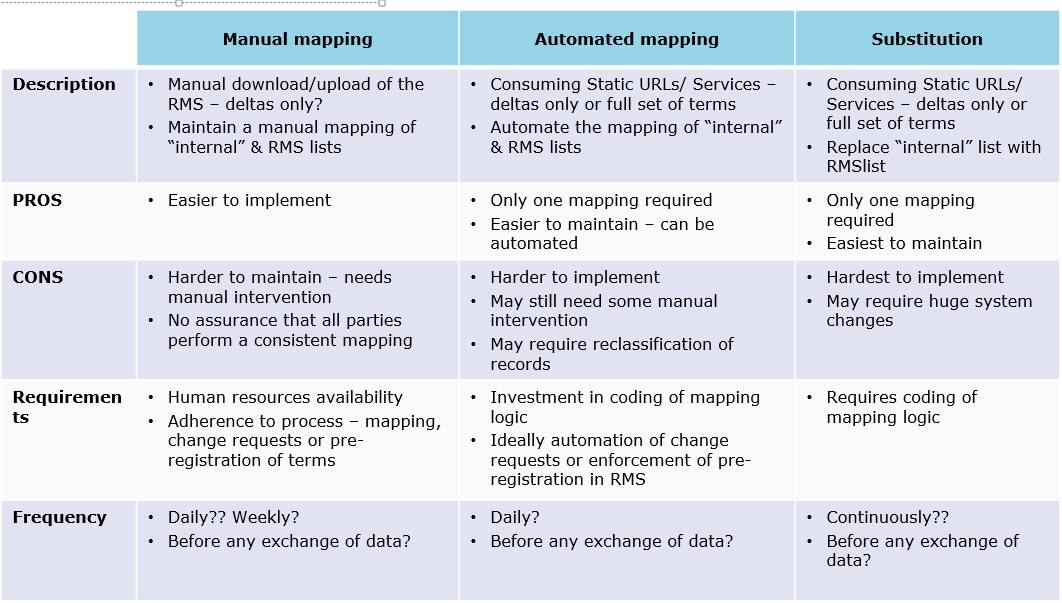 Download IDMP SPOR Referentials EUTCT (ZIP)
https://www.idmp1.com/wp-content/uploads/2015/03/wiki_fotolia_68871205_m.jpg
1378
1378
Ursula Tschorn
https://idmp1.com/wp-content/uploads/2016/03/logo_idmp1_01.jpg
Ursula Tschorn
2017-02-17 16:48:33
2017-02-19 19:14:10
SPOR Data Mapping Activities