Using OMS data in eAF
(EMA SPOR webinar, 14 June 2018)
Content
About OMS
Submission of OMS Change Requests (CRs)
Key messages
OMS support & guidance
Download Webinar (PDF)
1.) About OMS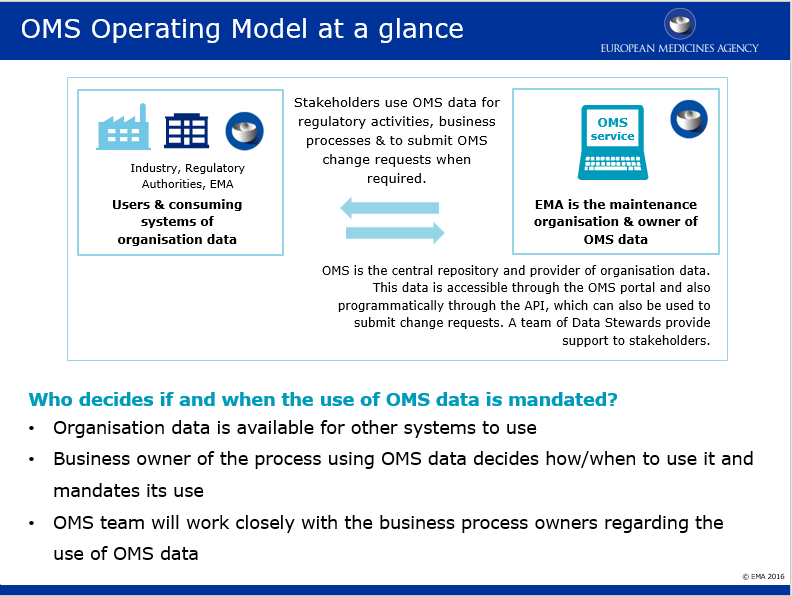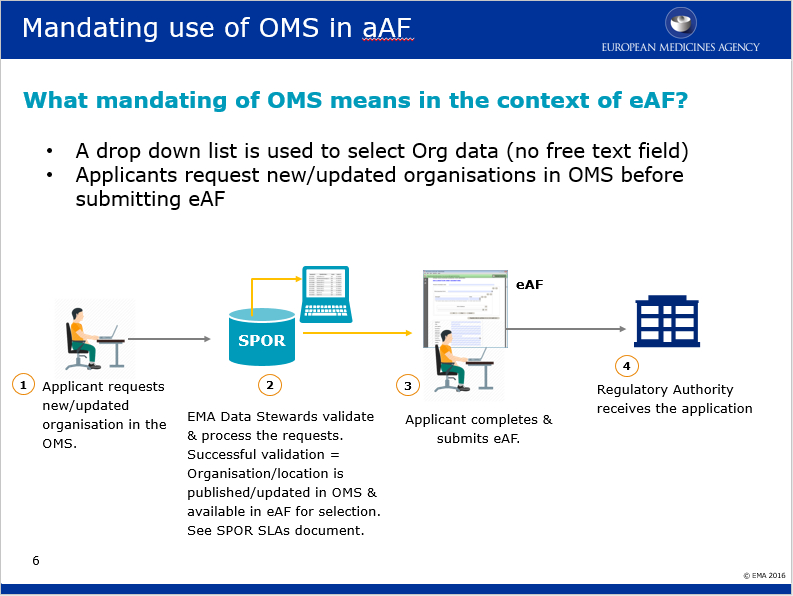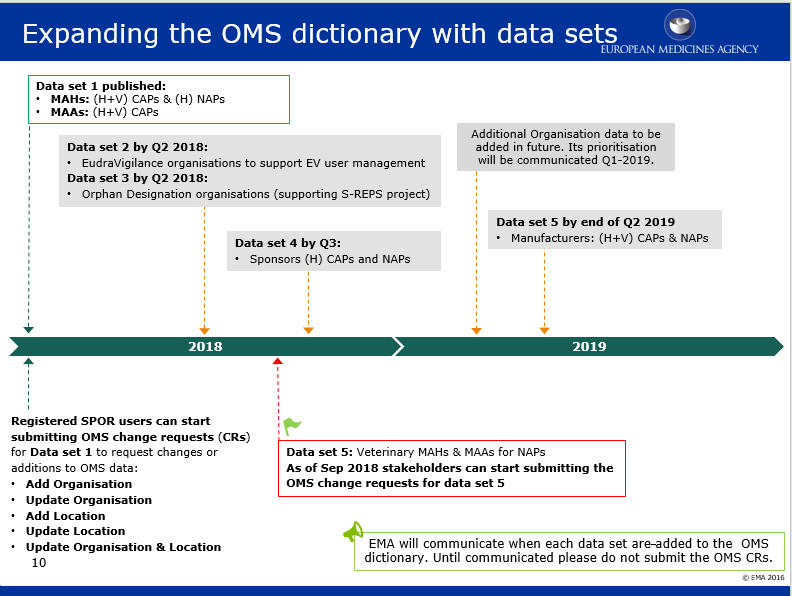 2.) Using OMS in eAF/CESP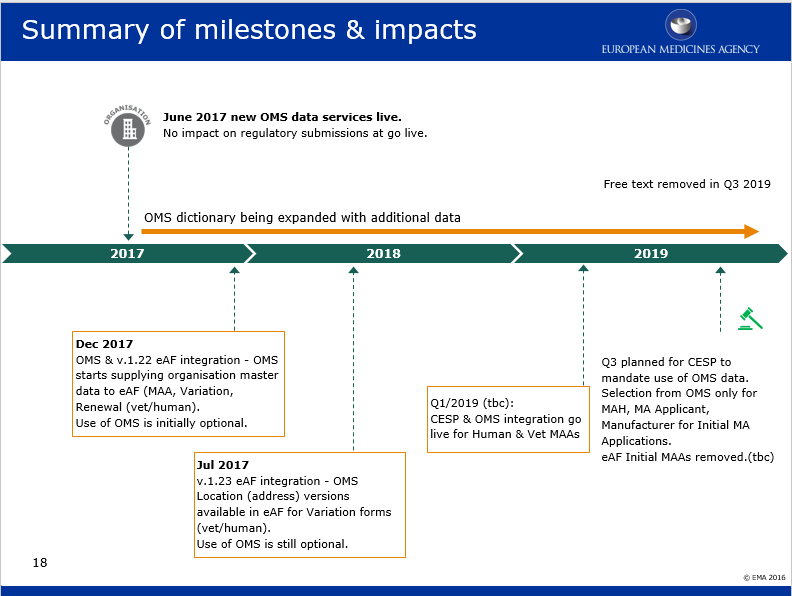 3.) Submission of OMS Change Requests (CRs)
4.) Key messages to Using OMS data in eAF
Using OMS data in eAF in a nutshell:
OMS dictionary (list of organisations with associated physical locations) can be used to support regulatory business processes
OMS content is growing and data quality is expected to improve over time
Business owner of the process using OMS data decides how/when to use it and mandates its use. OMS team will work closely with the business process owners
eAF will not mandate the use of OMS data, free text will still be available
CESP will mandate the use of OMS data in the form. Organisation data will have to be pre-registered in OMS and can be selected in CESP. This is not planned before Q3-2019 for Initial MA Applications
Applicants are advised to familiarise themselves with the use of OMS data and with the process before the use of OMS data will be mandated
Applicants and MAHs are responsible to register/update organisation data in OMS before regulatory submissions (e.g. Initial MAA, Var, Renewal)
Submission of OMS Change Requests for Veterinary MAH & MAAs for NAPs starts from September 2018
5.) OMS support & guidance
Reference documents
accessible from the
SPOR portal
OMS web user manual – guidance on OMS services, e.g. searching, exporting data, requesting CRs
SPOR user registration manual (how to register for SPOR)
SPOR affiliation template (to register the first industry super user)
Change Request (CR) Validation in OMS
Organisation data quality standards in OMS
SPOR SLAs (SLA are indicative and will be reviewed in future)
Training videos
OMS training videos available to view on the @emainfo channel
EMA Website
EMA corporate website also includes SPOR related information, documents and material from webinars.
EMA Account Management Portal
To create a new EMA account in order to obtain access to EMA systems (including SPOR). To request SPOR user role.
EMA Service Desk Portal
Service requests, issues, requests for technical support shall be submitted through the Service Desk Portal.
6.) Download Webinar
https://www.idmp1.com/wp-content/uploads/2016/11/logo-ema.jpg
143
150
Ursula Tschorn
https://idmp1.com/wp-content/uploads/2016/03/logo_idmp1_01.jpg
Ursula Tschorn
2018-06-14 12:32:41
2018-06-14 13:07:11
EMA Webinar Using OMS data in eAF (14.6.2018) Download