Further update from EMA on SPOR Web-User-Interface – New Version is live
(11. August 2017)
What is new in the SPOR Web-User-Interface
The EMA have published a new version of the SPOR Web-User-Interface . The Change Industry Liaison group (where IDMP1 is member in) has been asked from EMA to pass on to you the following notification on updates to SPOR: SPOR new version is released!
The update regarding SPOR implementation primarily updates to registration, OMS and RMS.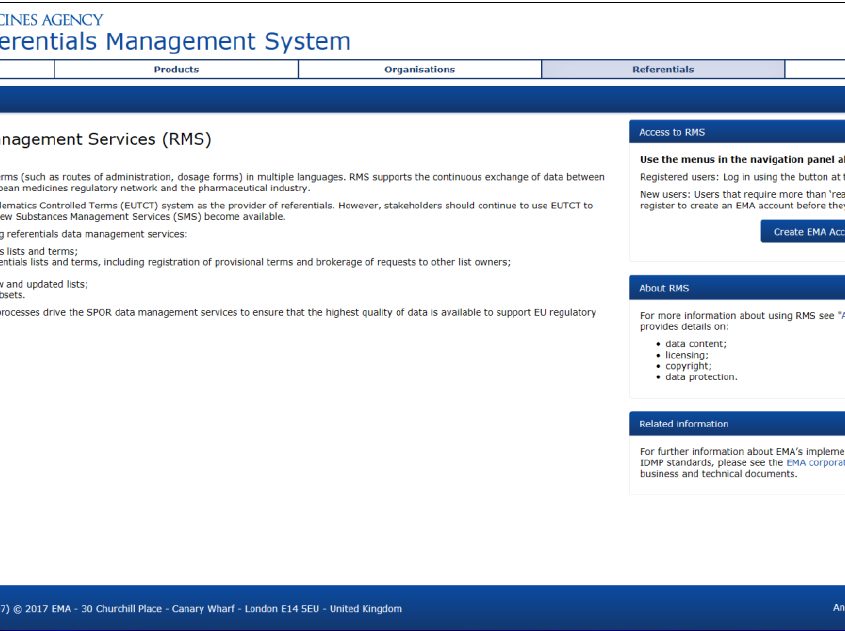 SPOR Web-User-Interface – new version general documents
EMA has published new documents on SPOR Web-User-Interface. Downloads are made available here in IDMP1 as ZIP-File.
| | | | |
| --- | --- | --- | --- |
| Document Name | Document Description | Published Date | Actions |
| About RMS | Overview of RMS data, copyright information and legal disclaimer | 19.06.2016 | |
| About SPOR | Introduction to the legal disclaimer, copyright and other policies of using SPOR data. | 06.04.2016 | |
| EMA SPOR user registration | A powerpoint presentation describing the end to end process to register SPOR Web UI users | 23.06.2017 | |
| RMS & OMS user on boarding | Referentials Management Service (RMS) and Organisations Management Services (OMS) user on-boarding plan | 12.07.2017 | |
| RMS New List Template | Template to be used for requesting a new list or to update multiple terms in a list | 19.06.2017 | |
| RMS Web User Manual | A step-by-step manual showing the main functionalities available in the RMS web user interface | 20.06.2017 | |
| SPOR API sample payloads | Example of the use of API calls available in the OMS/RMS solution | 11.08.2017 | |
| SPOR SLAs | Service Level Agreement (SLAs) for the validation of change requests to update RMS (and OMS) change requests | 27.06.2017 | |
| SPOR User Registration Manual | Step-by-step manual how to register for EMA systems and request SPOR user roles | 23.06.2017 | |
Download EMA´s new version documents
ema_spor_documents_2017august11.zip
Link to EMA´s SPOR Web-User-Interface
https://www.idmp1.com/wp-content/uploads/2016/11/logo-ema.jpg
143
150
Ursula Tschorn
https://idmp1.com/wp-content/uploads/2016/03/logo_idmp1_01.jpg
Ursula Tschorn
2017-08-11 14:33:58
2017-08-11 14:59:32
Update from EMA on RMS Web-User-Interface - New Version is live