SMS, G-SRS, GINAS, EU-SRS Current Status of the IDMP Substance Submodel Implementations in Europe and the US
By Dieter Schlaps for IDMP1-News July 2018
The SMS, G-SRS, GINAS, EU-SRS Current Status as of July 2018 is beeing summarised in this blog article.
FDA's G-SRS System
In FDA2's G-SRS1 system, the substance is registered per type, as defined in the IDMP4 standard (e.g. chemicals, proteins, polymers, structurally diverse, nucleic acid, etc.) and then, certain criteria apply to distinguish substances in each category from one another (e.g., chemical structure, DNA sequence etc.). When enough information is available and validated, a substance is assigned a unique identification (UNII- Unique Ingredient Identifier) code, which can be used as a quick way to refer to that substance in the future. Until the UNII code is defined, the substance exists in G-SRS as a "concept".
In last week's GINAS[1] meeting, FDA[2]'s and NCATS[3]' teams reported about the current status of FDA's implementation of the IDMP[4] substance standard [1], and, indeed, a lot has been achieved:
The final versions of the ISO Standard 11238 on Substances (https://www.iso.org/standard/69697.html ) and its Implementation Guideline 19844 (https://www.iso.org/standard/71965.html ) with all annexes are published in this month (July 2018)
Version 2.2 of G-SRS is now in productive use at the FDA
The version 2.2 of the public G-SRS will be released in a few weeks, watch website https://tripod.nih.gov/ginas/#/.
The currently available version 2.1 of the public G-SRS already hosts more than 100.000 substances and concepts.
Programmatic communication with the G-SRS database is possible through the GINAS RESTful[5] API[6] (https://tripod.nih.gov/ginas/#/gsrs/api ), allowing substance searching, registration, browsing, updating. Figure 1 shows and example that downloads substances with all details in a simple query.
Version 2.2 allows individual configuration by the registered user, e.g. which properties of a substance and which substance types are to be listed in the G-SRS views.
With version 2.2, G-SRS has become more modular and more extendable than previously, which also should make interfacing and synchronization with other substance databases easier.
For the production versions, from now on FDA will only support UNIX-based platforms, however. But Windows-based systems will be available for test and/or development environments.
At the same time, interested parties, that would be interested to develop and maintain a Windows-based G-SRS are welcome and should contact FDA's GINAS team.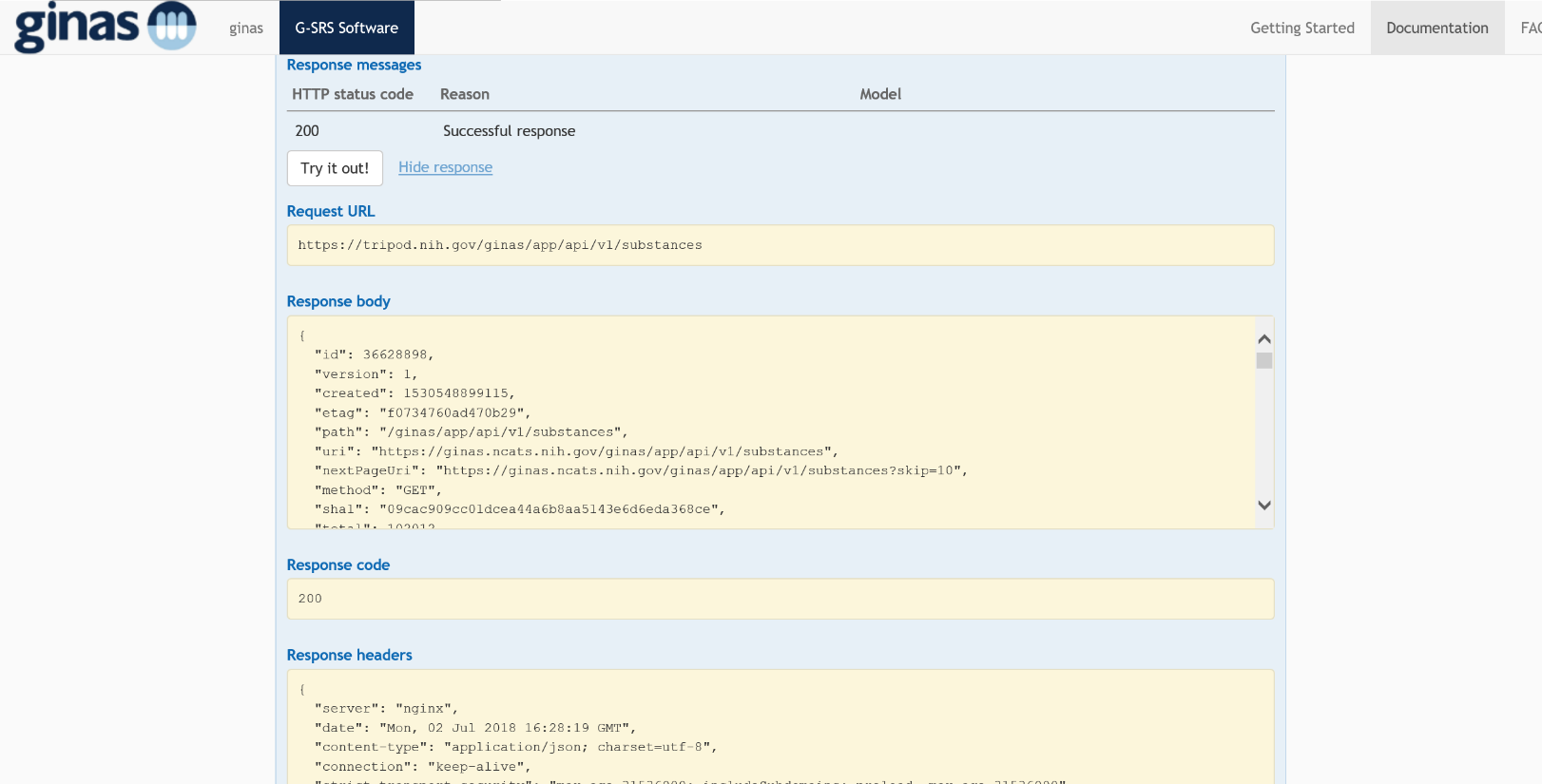 Figure 1: G-SRS API: Example Download of substance details in JSON format. The URL <uri>https://ginas.ncats.nih.gov/ginas/app/api/v1/substances?view=full</uri> retrieves the full data of the first ten substances as a single JSON file.
The following figure shows a screenshot of FDA's internal G-SRS system, that links information about the product, its registrations and the substance information in a common interface.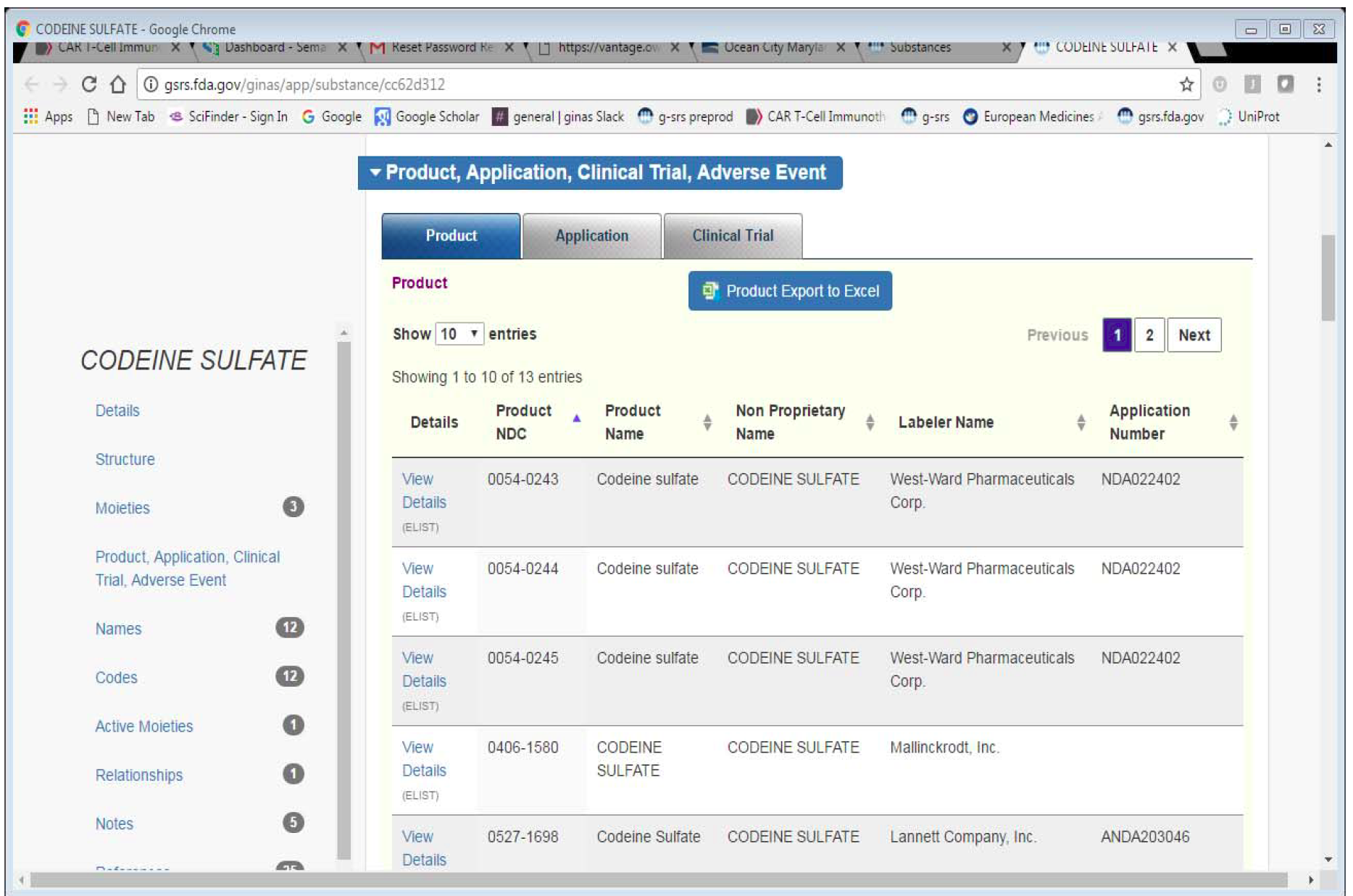 Figure 2: FDA's internal G-SRS System, where product registration information is linked to IDMP substance information ([1])
An updated G-SRS data set will be available end of July.
For versions 2.3ff. FDA now plans to address the following topics [1]:
Inclusion of Orphan Drug Application Codes, indications and other product-related information
Develop modules for Specified Substance Groups 2-4
Start entering Specified Substance Group 1[7] information
Continue to develop better forms and presentation of data
Expand quality (impurities) and pharmacology (targets, metabolite, cyp and transporter information)
Deploy full instances with all public data at Open FDA and NLM
Establish mechanism for system-system communication
Integrate G-SRS into a clinical trial registry system (C-DISC)
European Activities around SMS and EU-SRS
The following activities concerning the SMS, G-SRS, GINAS, EU-SRS Current Status are carried out in Europe:
Substance Pilots to assess the validity of Article 57 substances and carry out mappings to G-SRS:
In Europe with the (IDMP-non-compliant) substance information being available in Article 57 database, there is first-of-all the need to map these information into the IDMP data model, to clean-up the data and then to match it against the G-SRS system.
The following figure shows how the EMA team led by Dr. Herman Diederik (Medicines Evaluation Board, Amsterdam, Netherlands) is carrying out this challenging task: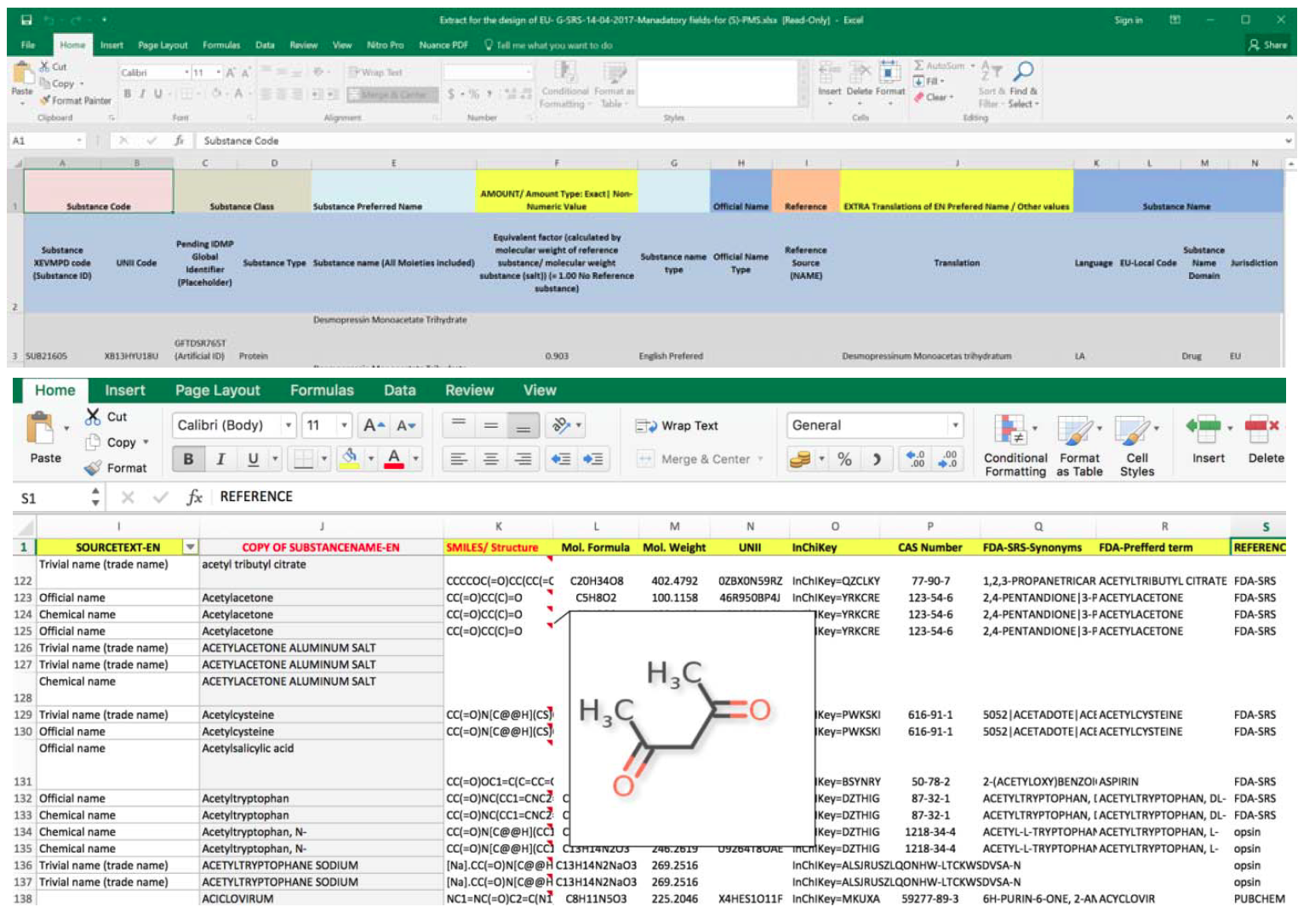 Figure 3: Substance mapping from xEVMPD/ Article 57 to G-SRS ([1])
Business Case and Implementation of a European Substance Registration System (EU-SRS)
The business case that was presented to the 92nd Heads of Medicines Agencies (HMA) (19 – 21 June 2018, Sofia, Bulgaria) describes why an IDMP-compliant Substance Management System is regarded indispensable for a successful implementation of SPOR, the European Framework for IDMP. Without unique identification and reliable characterization of substances used in product compositions, extensive additional efforts will be continuously be spent to check, correct and communicate substance data provided by industry to regulatory agencies.
The data lists that are used today for the selection of the substances and/or the declaration of strength for product composition in electronic Application Form (eAF), as currently provided by EUTCT / EudraVigilance are highly error-prone and not unambiguous.
At last, the HMA meeting endorsed the business case which now allows to start the EU-SRS project.
The Dutch Medicines Evaluation Board will lead the implementation of EU-SRS.
European Substances Validation Group (SVG)
The HMA meeting also endorsed the establishment of the European Substances Validation Group (SVG), which will assemble European (NCA/EMA) substance experts that will govern the contents and enable Europe-wide use of substance information, and it also endorsed the full cleansing of the current substances list to a baseline of quality that supports the required processes.
The role of SMS vs. EU-SRS
The Substance Management Service (SMS) within SPOR will be the "substance list" that is to be used when substances are to be selected for an electronic submission. It will hold a key set of fields on substances for use in related regulatory use cases (SPOR). In contrast to SMS, EU-SRS will support unique identification of substances using a more extensive data model, validation rules as well as validated content. EU-SRS will generate the final identifier to the substance and will distribute this to SMS for use in regulatory processes.
EU-SRS will also be the primary tool for the SVG and will enable alignment and synchronization with the FDA substance system (G-SRS) to allow for maximal re-use of already characterized substances. [2]
Conclusion and Outlook to the SMS, G-SRS, GINAS, EU-SRS Current Status
In the first half year of 2018 there has been significant progress in IDMP substance management activities around the globe:
The IDMP standard and implementation guidelines for Substances 11238 and 19844 are in process of being published by the International Standards Organisation (ISO), FDA has made some significant achievements in the implementation of their G-SRS system and EMA has now finally endorsed a project to establish Europe's first IDMP-compatible Substance Management System (EU-SRS).
The implementation of EU-SRS will last probably one year or more, but will ultimately lead to a better and more effective regulatory decision making in the Network, from which patients, regulators and industry will profit.
References:
[1] Overview of ISO IDMP, Substances and
HL7
Patient Care WG (allergy-intolerance)
Joint HL7 Biomedical Research & Regulation WG and Patient Care WG Meeting, May 10, Madrid, Spain
Panagiotis Telonis (EMA), Christian Hay (ISO/GS1), Herman Diederik (EMA/CBG),
Larry Callahan (FDA), Frank Switzer (FDA), Tyler Peryea (NCATS/NIH), Noel Southall
(NCATS/NIH). Link:
http://wiki.hl7.org/images/2/2d/PT_CH_LC_HD_IDMP_HL7_Joint_BRR-PC_May_2017.pdf
[2] Business case for implementation of EU-SRS – IDMP compliant substance management.
92nd Meeting of Heads of Medicines Agencies (HMA) (19 – 21 June 2018, Sofia, Bulgaria)
Abbreviations:
[1] GINAS is the project name of FDA's substance database project and stood originally for "Global Ingredient Archiving System". The system's name name has been changed in the meantime into G-SRS, "Global Substance Registration System", but the old project name is still in use.
[2] FDA: Food and Drug Administration
[3] NCATS: National Center for Advancing Translational Sciences
[4] IDMP: ISO Standard for the Identification of Medicinal Products
[5] RESTful: The REST ("Representational State Transfer") architecture has been defined to allow "stateless" machine-to-machine communication between clients and web-based applications. "Stateless" means that all information that is needed to conclude the API request must be contained in the url ("uniform resource locator") string. Methods like "GET", "PUT", "POST" etc. are provided by G-SRS for that purpose. The web application therefore does only need minimum access rights management and no further session management due to its stateless character.
[6] API: Application Program Interface – Set of functions for communication and data exchange with the G-SRS database
[7] IDMP Group 1 Specified Substances are multiple substance materials (Coatings, Colorants, Flavorants); Physical Form; Extracts
https://www.idmp1.com/wp-content/uploads/2016/06/Itcls-eu-idmp1.png
630
945
Ursula Tschorn
https://idmp1.com/wp-content/uploads/2016/03/logo_idmp1_01.jpg
Ursula Tschorn
2018-07-04 09:03:07
2018-07-04 09:35:01
SMS, G-SRS, GINAS, EU-SRS Current Status July 2018